About the Journal
Journal of Language Teaching (JLT) is a scholarly peer-reviewed journal published quarterly, focusing on theories, methods, and materials in language teaching, study, and research. It provides a high-profile, leading-edge forum for academics, professionals, consultants, educators, practitioners, and students in the field to contribute and disseminate innovative new work on language teaching and research.
ISSN: 2770-4602
Areas of Interest:
Language teaching methods, intervention, and experiments;
Curriculum development and practices and their effects;
Language teacher education and professional development;
Cross-cultural studies, language and culture, cognition, and pragmatics;
Bilingual and multilingual education of any kind of language;
New technologies in language teaching;
Testing, assessment, and evaluation;
Linguistics: phonetics, phonology, morphology, syntax, semantics, sociolinguistics, psycholinguistics, and neurolinguistics;
Discourse analysis;
Language teaching, educational psychology, and sociology.
Indexing:
Crossref, DOI, Google Scholar, Research Gate, Semantic Scholar, ORCiD, Reviewer Credits.
Article Processing Charges:
US$350/HK$2,800/CNY2,500
In order to ensure the publication of your article, we require payment of Article Processing Charges (APCs), aiming to maintain the basic operation of the journal. The APCs will only be applied once the article is accepted for publication, and authors will not be charged during the review process.
The types of articles that we are accepting
Publication Process
Generally, it takes 1 to 2 months to publish an article in JLT.
Starting from October 1, 2023, JLT switches to publish quarterly. Moreover, JLT operates on a flexible publishing schedule, combining the benefits of rolling basis publication with quarterly releases. Unlike traditional journals that adhere to fixed publication dates, we embrace a dynamic approach to disseminating scholarly content. Articles are continuously reviewed, edited, and published immediately once accepted, providing authors with rapid visibility for their work.
The flowchart below shows our publication procedure. Please note this is only a recommended deadline. We cannot promise when your article will be published because we cannot control the speed of peer review.
Current Issue
Vol. 3 No. 9 (2023)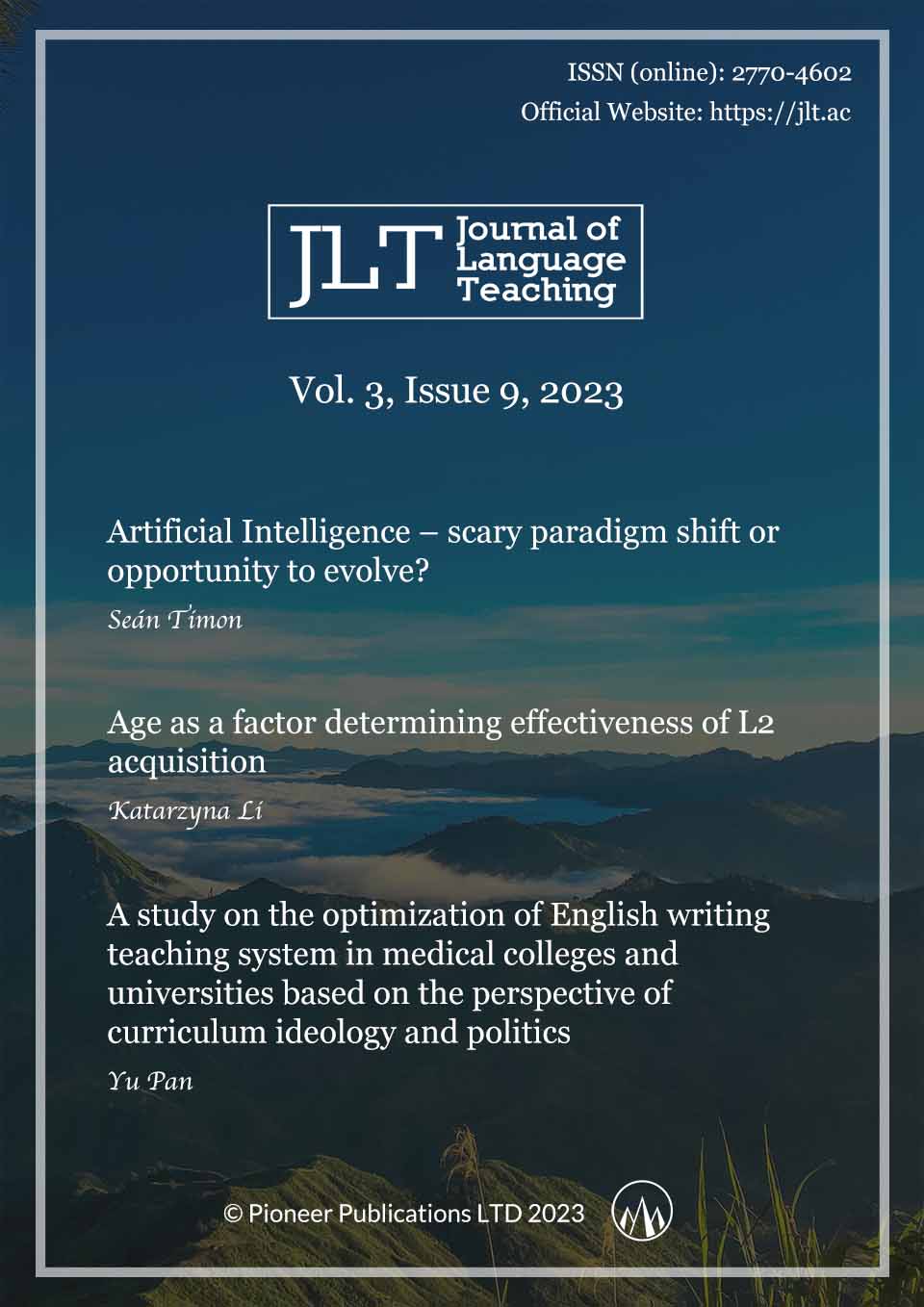 Welcome to our September issue! In this edition, we explore the exciting landscape of education and language acquisition through three captivating articles. Our first article (feature) delves into the world of Artificial Intelligence Large Language Models in language education, showcasing their potential to transform learning, teaching, assessment, and more. The second article (review) challenges common beliefs about language learning and age, shedding light on the nuances of language acquisition and proficiency. Lastly, we present an original empirical study in medical education that emphasizes the integration of language skills, humanistic literacy, and research awareness into teaching practices. Join us in exploring these thought-provoking insights that promise to reshape the way we approach education.
View All Issues