Artificial Intelligence – scary paradigm shift or opportunity to evolve?
Keywords:
AI, artificial intelligence, large language models, natural language processing, language learning, educational technology, future of language learning
Abstract
This feature article sets out to offer some ideas and provoke discussion on the future of Artificial Intelligence Large Language Models in language education. The brief I was given is simple, to draw on my own observation, understanding and experience to set out a positive take on the development of AI Large Language Models in the education sector. So, caveat lector, this is not written from a neutral perspective, all opinions are my own unless stated otherwise.
I've set out to offer a brief survey of the major opportunities AI presents for language learners and teachers. These include an expansion in capacity and types of practice, support for the study environment and the roles of student and teacher. I set out a vision of a disruptive but ultimately beneficial impact on major aspects of language learning such as assessment and access to instruction. I have concluded by reflecting on the continuity and future possibilities of deep and ubiquitous AI augmentation of human language use.
References
Beijing Consensus on Artificial Intelligence and Education, Unesco.org. (2021). https://unesdoc.unesco.org/ark:/48223/pf0000368303
Celik, I. (2023). Towards Intelligent-TPACK: An empirical study on teachers' professional knowledge to ethically integrate artificial intelligence (AI)-based tools into education. Computers in Human Behavior, 138, p.107468. https://doi.org/10.1016/j.chb.2022.107468
Fine, A. and Kanter, B. (2022). Using Technology to Make Work More Human. Harvard Business Review. https://hbr.org/2022/03/using-technology-to-make-work-more-human
Luckin, R., Holmes, W., Griffiths, M. and Laurie B Forcier Pearson (2016). Intelligence Unleashed An argument for AI in Education. https://www.pearson.com/content/dam/corporate/global/pearson-dot-com/files/innovation/Intelligence-Unleashed-Publication.pdf
tpack.org. (n.d.). TPACK.ORG. http://tpack.org/
‌World Economic Forum. (2023). ChatGPT and cheating: 5 ways to change how students are graded. https://www.weforum.org/agenda/2023/03/chatgpt-and-cheating-5-ways-to-change-how-students-are-graded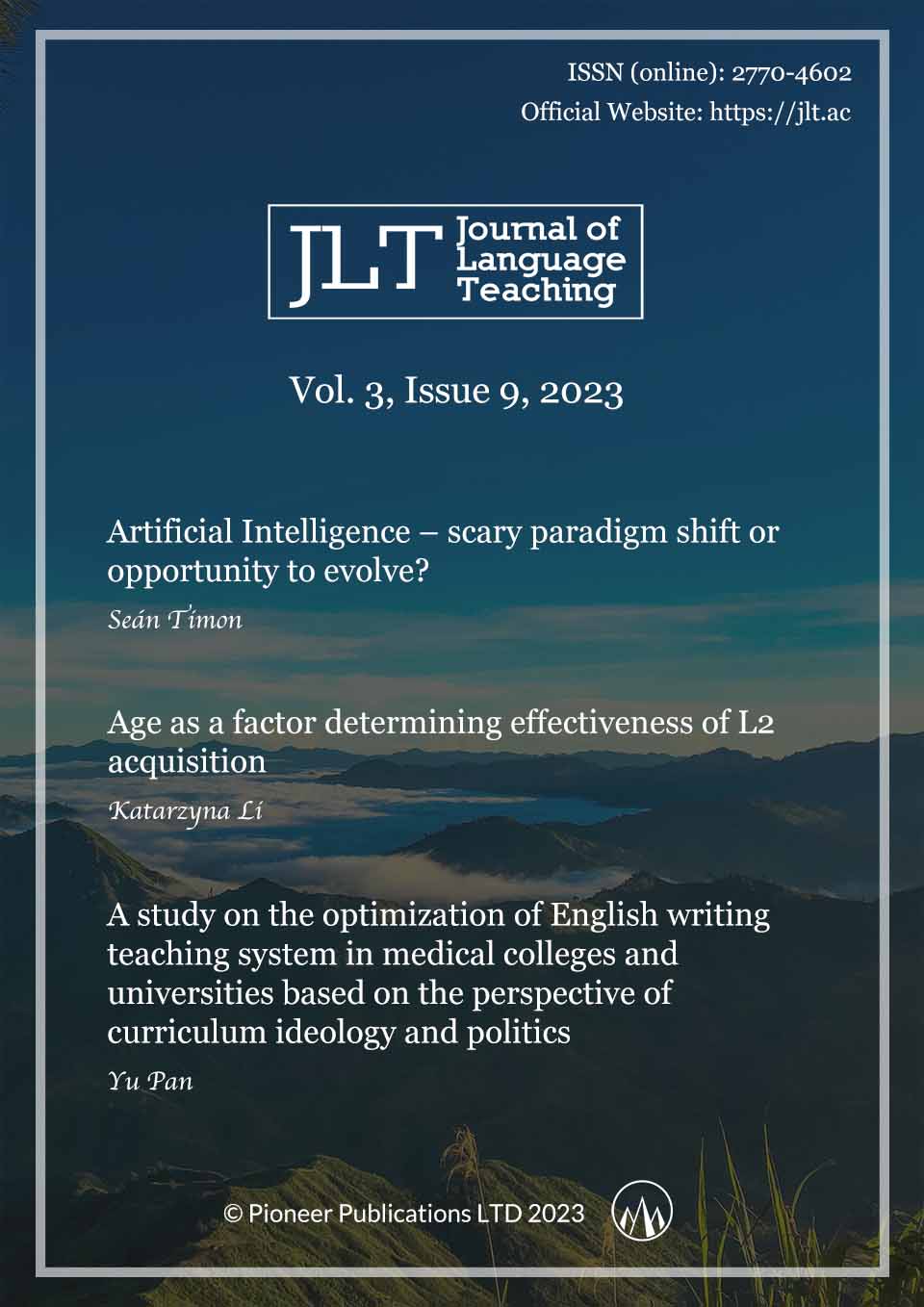 Downloads
How to Cite
Timon, S. (2023). Artificial Intelligence – scary paradigm shift or opportunity to evolve?. Journal of Language Teaching, 3(9), 1–6. https://doi.org/10.54475/jlt.2023.022
License
Copyright (c) 2023 Journal of Language Teaching
This work is licensed under a Creative Commons Attribution 4.0 International License.